Planning the layout of your bathroom
If the kitchen is often called the heart of the home, then the bathroom could be considered the engine room. We need our bathrooms to be a practical space and there's a lot going on, but it also holds an emotional function – it's the place where we put ourselves together to face the day, and for many it's where we go to escape the world and relax as well.
Although your bathroom may be the smallest room in the house, it can also be the most complicated to create or remodel. Design needs to accommodate all your bathroom activities as well as creating the look you desire. With so much to consider we want to give you a guide on where to start with planning your bathroom layout.
1.Analyse the space
Analyse the space you have to work with. When renovating a bathroom you're likely to have more constraints than with new builds because of existing plumbing locations, and ceiling and floor depths. So take a look at what you've got and the run-on implications. Have you got options for where you can put the essentials? Or do you need to start with something you can't move – like a toilet or shower location, and build from there?
2.Make a floor plan
Think about what you absolutely must have – such as a toilet, shower and vanity with sink and bench space. These are the bathroom's key functional zones. Now what else do you need and want? It could be extra storage, a bath, or you might even want to fit the washing machine in here. What's unique to the way you'll be using this space?
Here's a tip: Bathroom floor plans tend to fall into one, two or three wet-wall layouts. A one-wall layout is when the sink, toilet and shower line up along one wall. This is the most cost-effective design, but it's also the most limiting.
3.Get technical
The further you get into your planning, the more you'll find yourself needing to consider the 'nitty gritty' of technical planning such as space around and between fixtures, drains, water lines and wiring. And don't forget the need for ventilation – you'll need a window at the minimum, but ideally a vent or fan to avoid the risk of condensation affecting your home structurally over time. All these things can affect your layout plan, so prepare to revise as more information comes to light. If you're renovating, you may find yourself weighing up the cost of moving major things like drains to get the design outcome you want – and rerouting plumbing or wiring is where the costs can escalate.
4.Assess the practicality of your plan
Now you've fit everything into your floorplan,don't forget to leave space for, well, space! All bathroom fixtures need space around them so you can use them comfortably and safely. Is there enough room to get by when the door's open or someone's standing at the sink? Or to step out of the bath? Other common pitfalls include baths that are too big or small for the space, having cabinets and benches that are too low or high for the people who'll be using them, and forgetting those small but important things like space for a waste bin and a towel rail.
There may be other implications from the features and styles you choose – for example if you've planned for your bathroom to be a wet room (with a shower that's not enclosed) – you'll need to waterproof the whole room. So make sure you think function as well as form.
Here's a diagram of minimum space you need between fixtures to help you plan. Please take into consideration local regulations: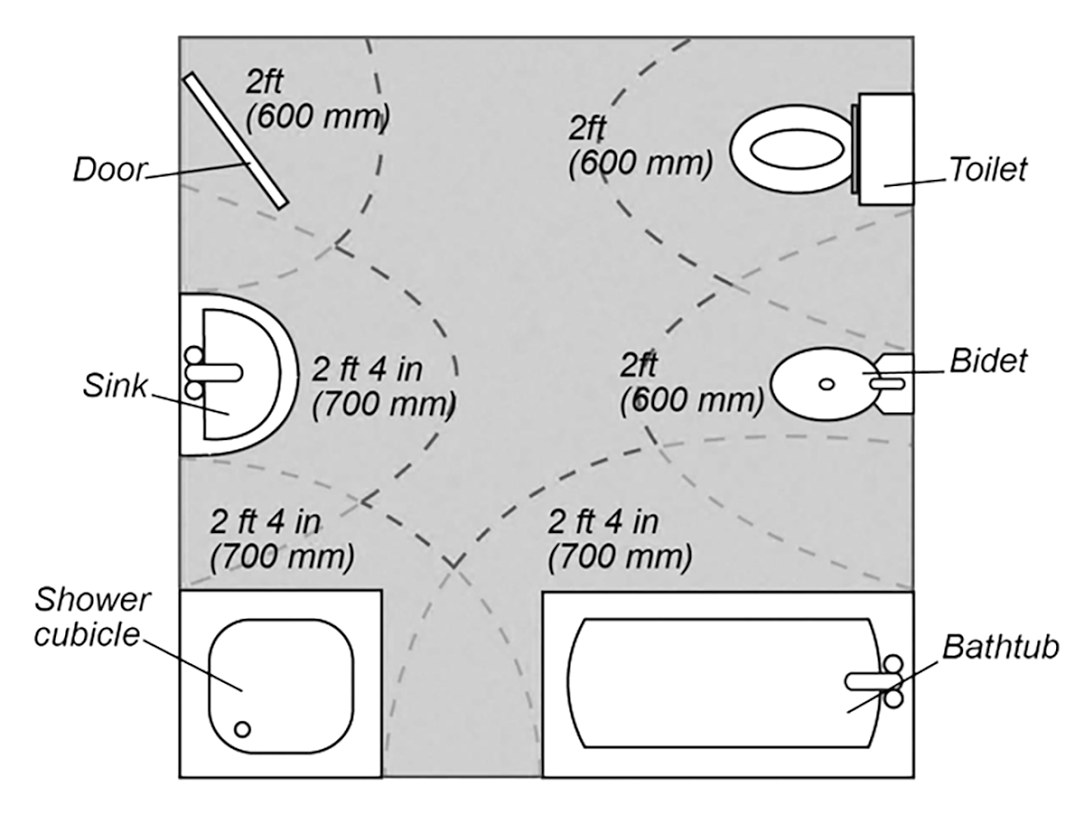 5.Move on to design
Things get exciting when you move onto picking tiles and textures, colours and shower or tapware. To get you started, explore the Methven bathroom range of shower and tapware here, including innovative styles for sustainability and luxury.
Everyone has different needs, budgets, values and personal styles they want reflected in their bathroom, which is something we think a lot about when developing our diverse range of showering and tapware products. So we developed the 'three f's' to help you think about what you want from your fixtures, and your wider bathroom design.
"Think about the three 'F's
Feeling, Function & Form "
1. Feeling
How do you want your finished bathroom to feel? Relaxing? Fresh? Welcoming? Modern, or with some rustic charm? And how will this fit in with the rest of your home?
2. Function
Get specific on function – how will your bathroom function? While this includes practicalities such as bath or no bath, it's also about the different functions your bathroom could perform during the course of a day – such as a place to move through quickly on your way to work in the morning, or the ability to become a relaxing zone when you take a soak in the tub.
3. Form
What textures do you like? What style are you going for? What materials do you want to use and what shapes do you want to use? Bring your personal style to play within the functional framework you've developed.
Now that you've narrowed down your bathroom goals, explore our Collections and find a style to suit every budget and taste, including Aurajet™, our most advanced showering experience yet.